MS Office Find Replace Software
Global Office Find And Replace desktop software performs multiple find and replace operations of text, images, fonts, and Data Connection Strings on multiple Microsoft Office documents: Word, Excel, PowerPoint or text documents csv, txt, html. There is never a need to open each document separately!
Extract Excel graphs as images (jpeg, png)! You can extract images from office documents too!




CLICK TO DOWNLOAD NOW
Global Office Find And Replace software allows you to make multiple substitutions in one operation without opening each Word, Excel, Power Point or text document one at a time. Change text or images or Fonts and Font Sizes or Copyright years and special symbols. Replace Connection Strings & Document Properties / Metadata Even doing this on one document will save you a lot of time because you can make multiple substitutions in one operation. Create a template for your documents, and just run this program on it to replace the necessary wording! Replace company logo! Extract all images from your office documents without having to open each one separately. Convert all your documents to PDF! Works with Word (docx), Power Point (pptx), Excel (xlsx) and text files (.txt, .csv) Watch a brief video demonstration here!
#1 Feature: INCREDIBLE CUSTOMER SUPPORT
Works with any office document (Microsoft Office 2007,2010,2013,2016, Office 365) and any bitness 32 or 64
Works with PDF documents
Works with pptx, xlsx, docx or text files (.csv, .txt, .html)
Can read Office 97-2003 files .doc,.ppt,.xls
Works on Windows 7 and up (Windows 7, Windows 8, Windows 10)
Multithreaded for better performance
Microsoft Office does NOT need to be installed!
Replace text and / or images in all documents stored on a computer in one operation
Replace inside Excel formulas
Image replacement has flexible scaling options to preserve the look and feel of your original document
Image can be replaced with another Image OR Text
Images can be removed from all documents
Works with jpg, gif, png, tif, ico images
Multiple find replace operations on one document in one operation
Extract all images from office documents
Extract Graphs as Images (jpeg, png) from multiple Excel docs
Mass convert all Microsoft Office documents to PDF
Use Wildcard Characters pattern matching to search for text to replace and transform result
Use Regular Expressions pattern matching to search for text to replace and transform result
Document Properties / Metadata / Custom Form Fields center. Maintain ALL document properties including custom form fields in one convenient location
Replace all or a part of a Connection String in ALL EXCEL documents at once.
View ALL connection strings for ALL EXCEL documents on computer in one convenient locaiton.
Fix location of the sharepoint shared conneciton in ALL excel documents at once.
Replace any font with any other font in Word, Excel, PowerPoint
Replace any Default Font and Size in Word, Excel, PowerPoint
Replace special characters such as Copyright © or Trademark symbols ™ in multiple documents at once
Replace Copyright year in all of your documents in one operation
Specify case sensitivity
Specify whole word or partial word substitution
Target specific areas for substitution: Body, Header, Footer, Hyperlinks, FootNotes, etc.
Works with all languages, Chinese is supported!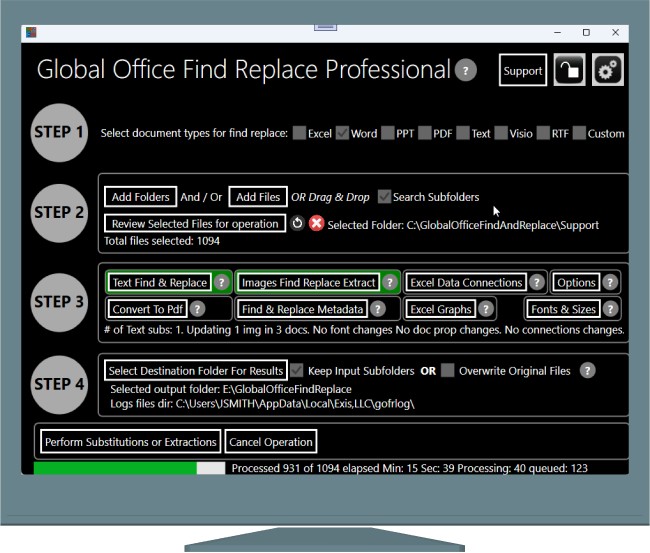 ---